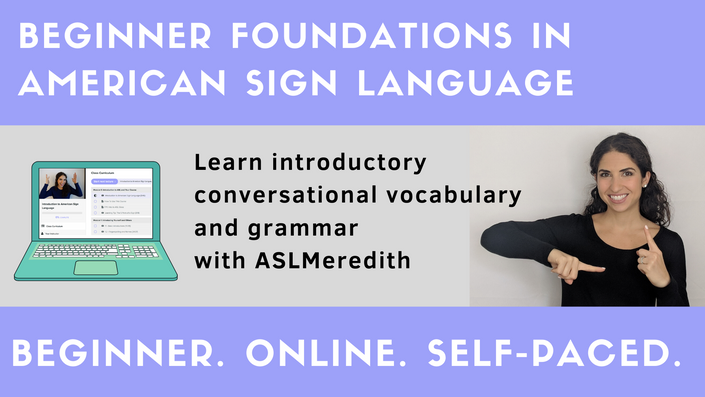 American Sign Language Made Simple
Beginner Foundations in Conversational Vocabulary and Grammar. Start having complete signed conversations within weeks!
Start Signing Today!
If you want to learn ASL, but don't know where to start...

If you've learned a bunch of words online, but can't string them together into sentences...
If you've searched for local in-person classes, but can't find or can't afford any...
If you'd like to take a live course, but can't fit it into your busy schedule...
Then this is for YOU!
Time to start learning.
Never signed a single word before? No problem! By the end of this course, you'll be able to confidently introduce yourself and your background; ask and answer questions about your likes, dislikes, and feelings; describe your family by name and age; explain why you're learning ASL; and engage in basic introductory conversations using appropriate ASL grammar!

We'll accomplish the above with video lessons, culture and grammar readings, comprehension activities, practice exercises, and more. All of this takes place online, so you can learn on your schedule, from the comfort of your own home. As with all courses, results may vary, but if you're committed to learning basic American Sign Language, then this course will get you where you want to be! Let's get started.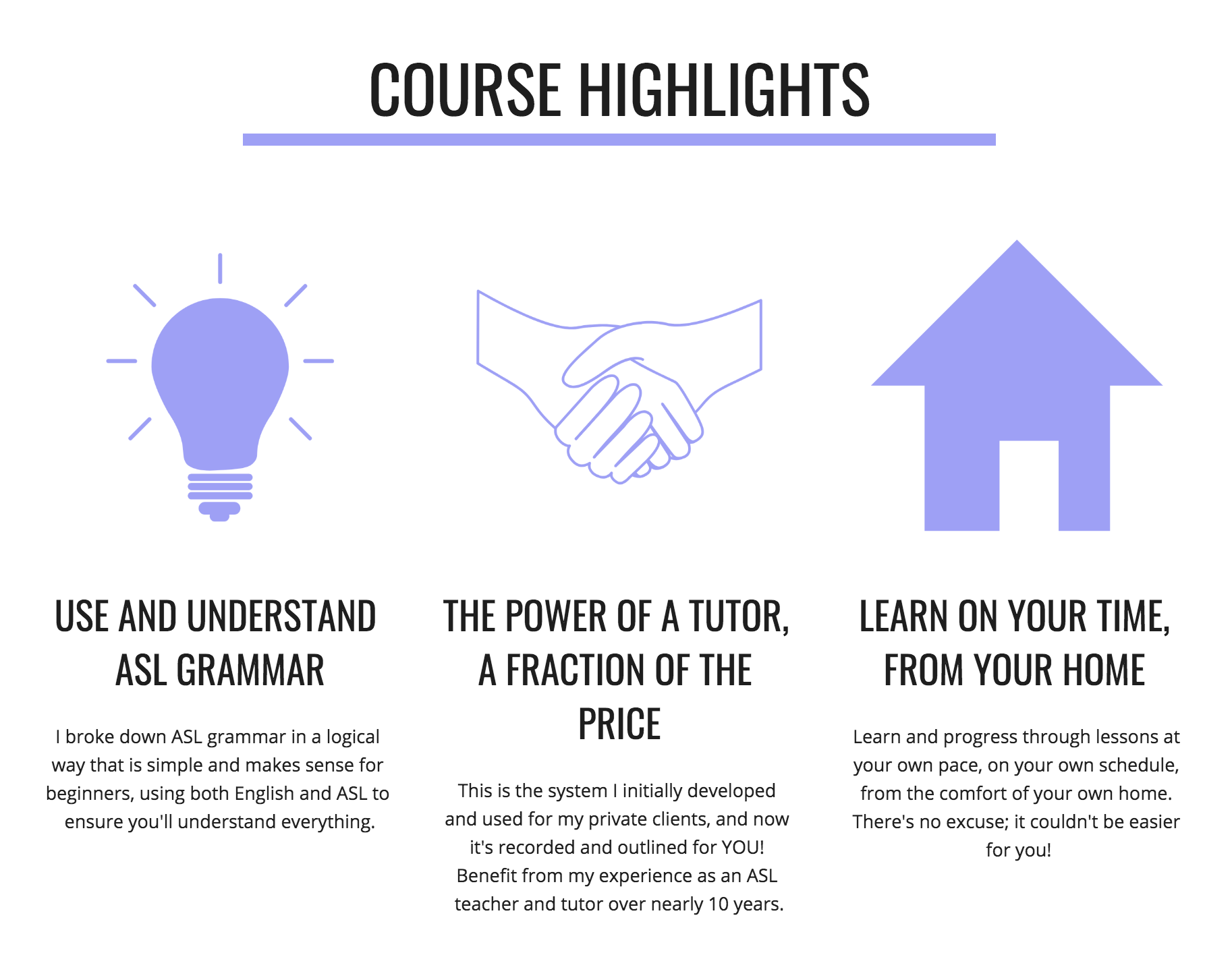 What students are saying:
"This course exceeded my expectations in every way!
Meredith is an exceptional teacher and understands how to connect the need to understand Deaf culture while learning ASL. When possible, she will explain a way to remember a sign by providing an association! When teaching she repeats a sign enough that it become familiar if you practice along with her. I will take advantage of any additional classes she may offer."
- Pammarie, Age 61, Alabama

"I loved taking the beginning ASL course online!
I loved the flexibility it gave me with my crazy travel work schedule.
I looked forward to every course but loved going at my own pace!
I learned enough to be able to communicate at an ASL meetup."
- Molly F., 33, Colorado
"I learned the fingerspelled alphabet way back in elementary school and I still remembered a few of them. Now I know so much more; and what I don't know now, I at least know how to ask for the information I need."
- Mike E., Age 23
"Just wanted to say what a joy Meredith is and a great teacher. I will continue her your videos."
- Jim D., 62, New Jersey
"This year I had to complete a Senior Independent Study Project (SISP) for my high school.
Meredith's course allowed me to go from knowing a few basic signs
to being able to sign and comprehend full-on conversations!
The course was organized in an efficient, organized manner
which allowed me to learn as well as test my newfound knowledge and skill."
- Sydney H., 18, Massachusetts
"I discovered Meredith's Beginner ASL course after watching many of her videos on YouTube. I took the course to supplement my "live" ASL 101 course.
Her course exceeded all of my expectations and will no doubt give me more confidence when I start ASL 102 in the fall. I highly recommend Meredith's course to anyone starting to learn ASL."
- Brian T., 59, Ottawa
"This course is an excellent first step into the world of ASL.
Easy to follow lessons; enough content to feel like you're getting your money's worth,
but not so much that it's overwhelming and you can't keep it all in; a solid grammatical foundation to put signs into an actual sentence.
What else can I say? 5/5 stars. Highly recommend."
- Alexei C., Age 28
Your Instructor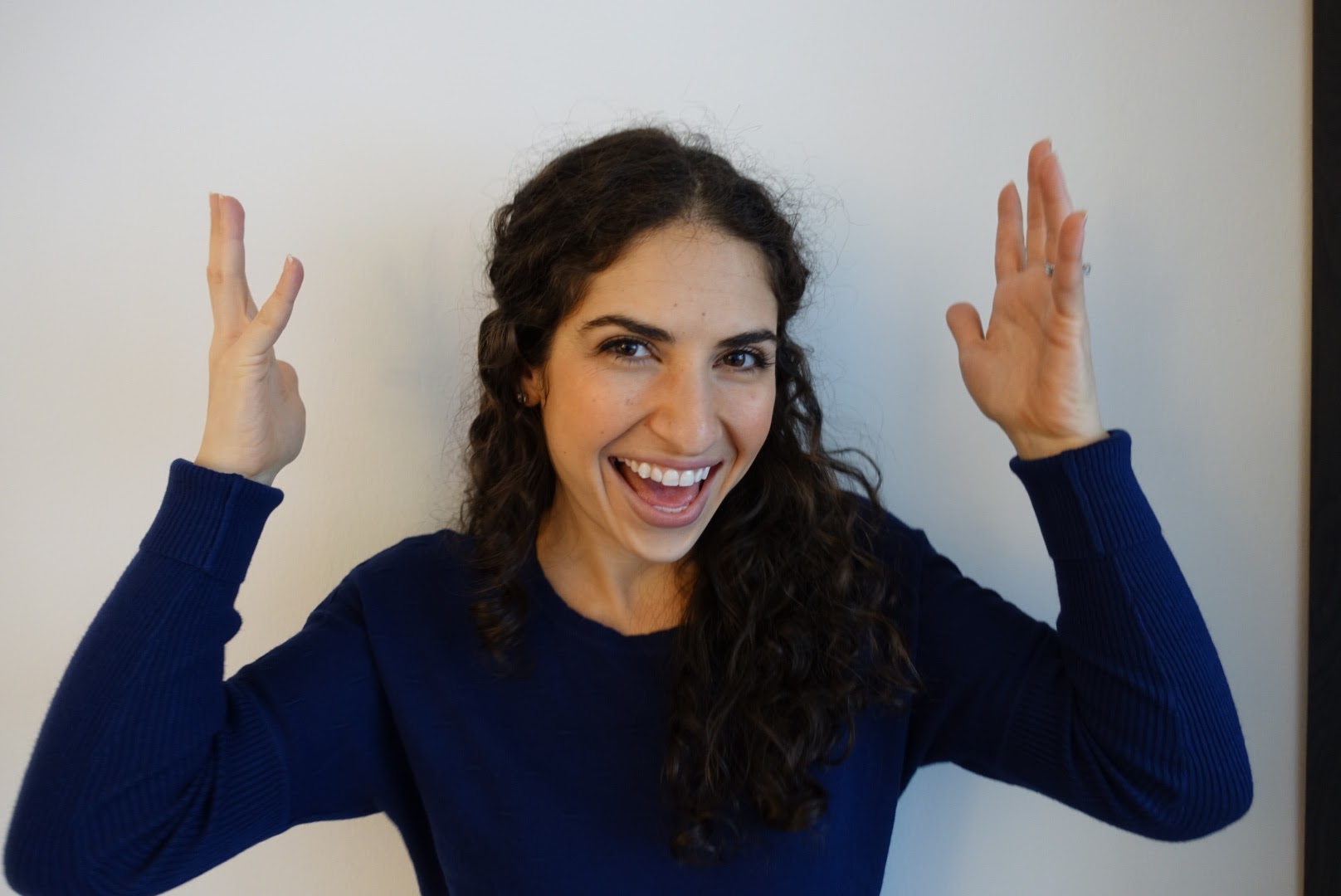 Meredith (known as "ASLMeredith" on Instagram and YouTube) is a NY-State certified instructor of ASL with an M.A. in Teaching ASL as a Foreign Language from Columbia University, and B.A. in Linguistics with a focus on sign languages and certificate in ASL from the University of Pennsylvania. She is a published author in the Gallaudet University Press research journal "Sign Language Studies". She has ten years of experience teaching, tutoring, and offering private lessons in ASL. You can learn more about your teacher at ASLMeredith.com
What teachers are saying:
"I have observed Meredith as a student and a colleague of mine, and she has proven from time to time to be skilled in, dedicated to, contributive, and innovative in the development of high-quality teaching and learning programming in American Sign Language, Deaf community and culture. I look forward to seeing more of her future productions."
- Russell S. Rosen, PhD
"Meredith is the perfect blend of nurturing and challenging; encouraging her students to be the best version of themselves. She has so much love for her career and her students are her priority. Her knowledge of linguistics is remarkable and her willingness to share what she knows with others makes her a natural born teacher."
- Azadeh Malekan, MA
Satisfaction Guarantee: Rest assured, you'll be happy with your new signing skills, or you'll get your money back with our 30-day refund policy!
Make a Difference: A portion of all proceeds will go toward a number of non-profits to benefit the Deaf Arts and bilingual education for Deaf children.

Course Curriculum
Module 0: Introduction to ASL and Your Course
Available in days
days after you enroll
Module 1: Introducing Yourself and Others
Available in days
days after you enroll
Module 2: Asking and Answering Simple Questions
Available in days
days after you enroll
Frequently Asked Questions
When does the course start and finish?
It starts as soon as you purchase! This is a completely self-paced online course - you decide when you start and when you finish. The recommended pace is one module per week, so you could complete this comfortably over the next six weeks.
How long do I have access to the course? What if I want to review later?
How does lifetime access sound? After enrolling, you have unlimited access to this course for as long as you like - across any and all devices you own. This means you can register now even if you don't plan to start the course for a few months, and also means that if you take the course now and want to review the material any point over the next year (or beyond), you'll be able to do so.
What if I am unhappy with the course?
We would never want you to be unhappy! If you are unsatisfied with your purchase, contact us in the first 30 days and we will give you a full refund.
Do I need to install anything to take this course?
Nope! All you need to take this course is a web-connected device. You log in and view all content in your web browser; no special software needed.
I've already taken an ASL class; is this for me?
This course was designed with a true beginner in mind and does "start from scratch". That said, several students with previous ASL experience (such as a class or two, or a Deaf relative who they converse with occasionally) did take the course and reported great satisfaction with the content! If you feel that your ASL is lacking structure (how to make grammatical sentences) or that you forget the basics, then review the six modules above to see if this might be a good fit for you to review, refresh, and even grow your skills further.
Can I take the course on my phone?
Yes, the lessons can be viewed from anywhere, including web-connected smart mobile devices. *Quizzes* are recommended to be completed on a larger screen, because you'll need to view video and also look at quiz questions. (There are 6 quizzes total.)
Are there any prerequisites?
Nope! This class starts with the basics, and assumes no prior experience. The only knowledge you need coming in is an understanding of written English.
How does this compare to learning in person?
I always recommend that students seek out local (in-person) classes to benefit from interaction with other signers and feedback from a live instructor -- bonus if it's a native Deaf signer. That said, live courses aren't available in every town, may not fit everyone's schedule, and may not fit into everyone's budget. This course offers an easy-to-use, easy-to-access, easy-to-schedule alternative for beginners who are eager to learn, and want to do so from home.
What makes this different from your YouTube videos?
My YouTube videos are heavily topic/vocabulary-focused, and teach you specific signs and a few common phrases. This beginner course (which contains NEW lessons, not found elsewhere) is designed to move you progressively from beginner/basic signs and structure to more complex signing structures, grammar, and practices. Each new lesson builds on the previous one. By the end of the course, you'll be able to make complete sentences using ASL, and you'll be able to continue learning new signs and fit them into the structures practiced in the course. It will help you understand real signing better without getting caught up with the grammar differences, and also provides tips along the way about learning, about Deaf Culture resources, and about best practices. And, of course, this also includes quizzes where you can test your knowledge and check your answers, so you can be sure you're ready to move on to the next lessons.
Can I buy this course as a GIFT for someone else?
Yes! But not on this page. To purchase the course as a gift, please go to this URL: https://bit.ly/ASLbeginnergift
Does this course come with a certificate?
At the end of the course, if you complete all lessons, you'll earn a Certificate of Completion for this particular course.  Note that this does *not* equate to college credit or any legal certification; it indicates only that you've completed this particular beginner course.
I have more questions!
Email me at course (at) aslmeredith (dot) com, and I'd be happy to answer any questions about the course.
Ready to have Meredith as your own ASL guide? Instead of paying $600 for six weeks of private lessons or $2,000 for a college course, this online course costs only a fraction of that -- just $199 for 50+ lessons, practice activities, and quizzes -- all taught by Meredith. Graduate the course in a matter of weeks, ready to begin conversing with your local Deaf community!